"Blue Stone is a different kind of tribal advisory service. We aren't just providing a service, we are a part of the team invested in making sure tribes achieve their goals to make their communities better." – Liana Onnen, Former Chairwoman of the Prairie Band Potawatomi Nation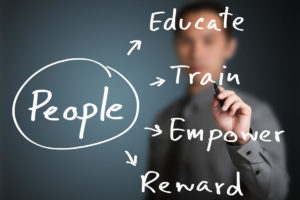 In the current economic and political environment, Tribes must expand and protect their revenue sources—and Tribal Human Resources Departments should be key strategic partners in this process.
Blue Stone's Human Resources Management Consulting offers a two-day planning session for tribal governments to sharpen the focus of their HR Departments in modernizing and becoming a more proactive player in working to enhance Tribal stability and economic development.
Blue Stone's HR Consulting Services has a broad spectrum of disciplines designed to provide expertise that supports the success of your tribal government and business portfolio. Our consulting services are based on timely execution of agreed upon deliverables and performance-based results. Here are a few reasons to choose Blue Stone's consulting services expertise:
Cultural competency: We offer professional HR consulting and personalized service that is focused on your tribal culture and strategic plan.
Compensation: Blue Stone will align your compensation and workforce with the needs and priorities of your tribe in a manner that anticipates the future needs for growth, recruitment and retention of employees, and risk assessment.
Risk Assessment: Blue Stone can train your HR staff on how to mitigate risks to the tribe and employees by ensuring your workforce management practices are compliant with federal, state and tribal regulations where appropriate.
Compliance: Our HR experts will ensure that employees are classified, documented, scheduled and compensated in a manner that is both legally compliant and consistent federal FLSA and tribal policies.
Labor Relations: Ensure your tribe's anti-sexual harassment policy and other discrimination, harassment, and retaliation policies comply with federal and tribal policy.
These are just some of the areas in which Blue Stone's consultants can ensure that your Human Resource Department is up-to-date and expertly trained to become a strategic partner in both your governmental and revenue generating operations.
Blue Stone's team of HR professionals are ready to assist with the knowledge, expertise and friendly service to get the job done on time, on budget and at the highest level of quality and professionalism.
Call today at (949) 476-8828 or email us at info@bluestonestrategy.com for your Human Resources consultation!